true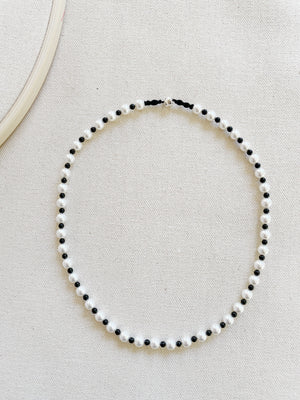 As part of our Cielo Collection we introduce the Claro Oscuro Necklace. 
The sky gives us a different version every day. A balance between day and night and light and darkness. A time to do and a time to dream. This was our inspiration to create this unique and elegant necklace.
Handcrafted with 6mm Swarovski pearls, 3mm black agate beads, black silk cord and sterling silver magnetic clasp. 
Approximately 43cm long including the clasp. 
Each of our products is made to order and our processing time is usually 1 - 5 business days.
Care Instructions:
Do not soak in water to avoid wear of the threads and gold plated materials. Avoid direct contact with body lotions and perfumes. Rough treatments can loosen the beads. Use mild soap and water to clean the cotton threads if needed, rinse and let it dry.