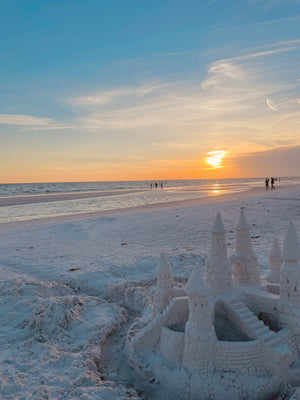 Agua Salada Inspiration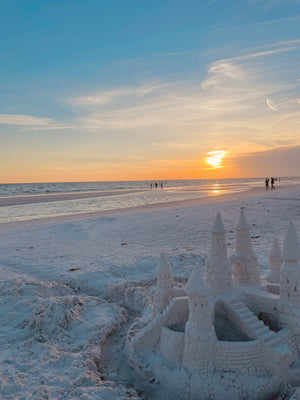 Agua Salada is our new collection and it means salty water.
All through the year I yearn to visit the sea. The long Canadian winters make my yearning even stronger.
I always feel it: my soul is made of salty water and sand. It is my natural habitat. I enjoyed the sea for so many years while living in Venezuela, it was home. However, the sea has become a luxury since I moved to Canada.
The salty water cures my soul, it recharges me, it makes me feel at peace. Every time I go to the sea I leave everything that feels heavy, everything that is not aligned with my purpose and everything that does not vibrate with me anymore.
I always talk about the Caribbean because it inspires me. It was the inspiration for our collections, Los Cayos, Caribe, Santa Ana, and La Isla, not only because of its natural beauty but also the moments lived in different parts of the Venezuelan Caribbean.
This time, Agua Salada is inspired by places in the Gulf of Mexico and what it means to visit them. Moments of family reunion, sharing with my husband, my son and daughter, my parents, my siblings and my niece and nephew.
Florida has become the central point to meet with them. We love to see each other and to recharge that family love. A love and care that we experience every day through the distance by sharing pictures, calls, video calls and text messages. My sister always says, "there is no distance when the love defines us". Maybe as a way of consolation, I have adopted the same sentence because the distance hurts.
When I say Agua Salada I emotionally travel to Bradenton and Sarasota in Florida where my favourite beaches are located. The unique beauty of Bean Point and Coquina Beach, both located at the north and south ends of Anna Maria Island or the fun vibes of Siesta Key Beach. White sand, turquoise water surrounded by a mixed vegetation and the chance to see and enjoy the dolphins swimming close by.
This collection is all about what I feel when I enjoy the sea with my family and relatives. The joy of seeing such an astonishing natural beauty, the enjoyment of the colourful villages alongside the beaches. The happy memories that I keep as treasures.
I share with you all of this joy translated into exclusive pieces created with a curated selection of semiprecious gemstones and colours that reflects the beauty and happiness of the place, just as blending with nature. All the best quality materials selected just for you to enjoy.
The semiprecious gemstones that I chose are mostly 3-4 mm rondelles and round beads, different colours and some of them transparent and faceted to enhance the natural and delicate shine that creates the sensation of being in front of the sea, the sensation of the intense and bright sun of a beach day and the deep mental clarity I feel after a relaxed and joyful day. But there are also bright and happy colours introduced with African and Japanese glass beads to reflect the cool vibes of the colourful villages.
With every Alijuna Collection I have the chance to go back and revisit my happy memories and see my life through a different pair of lenses. They allow me to reconnect with my roots, people and places that mean so much to me.
Agua Salada will be available at the end of April just in time for our busy spring and summer seasons.
With all my love and care for details.