true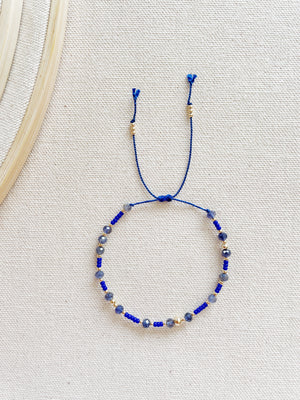 Siesta Key Single Brabelets
Siesta Key is known for its incredibly beautiful beaches, but have you ever visited its village? Full of colourful shops and restaurants with a vibrant atmosphere.
The bright and colourful beads of these bracelets reflect just those vibes. Because we feel so in balance and happy at Siesta Key, we also match their colours and semi precious gemstones properties to the chakras.
These are the options available:
Crown Chakra: lilac mixed with clear quartz beads. 

Third Eye Chakra: dark blue mixed with Iolite beads.
Throat Chakras: light blue with amazonite beads.
Heart Chakra: bright green with peridot beads.
Solar Plexus Chakra: bright yellow with pyrite beads.
Sacral Chakra: orange and moonstone beads.
Root Chakra: red and smoky quartz beads.
The materials of these bracelets are colourful Japanese beads, 14kt gold filled beads,  semiprecious gemstones and silk cord.
Adjustable.
🟡 Slight variations due to the natural and handmade beads that we use.
🟡 Care Instructions:

Your Alijuna jewelry is handmade thinking of you. We want you to feel happy and special.
Your pieces are made to last years if you give them some love and care.
Do not soak in water to avoid wear of the threads and gold plated materials. If for any reason the threads get wet, wait until they get totally dry to remove your jewelry. Avoid direct contact with body lotions and perfumes. Rough treatments can loosen the beads. Use mild soap and water to clean the cotton threads if needed, rinse and let it dry.