true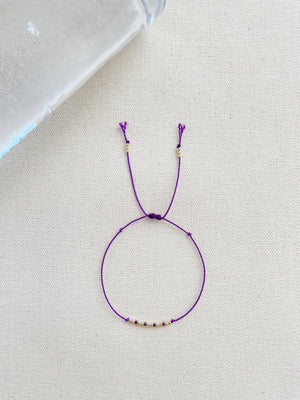 Para Ti Friendship Bracelets
Para Ti means For You! For your best friends, or your daughter, maybe for your mom or grandma. A collection inspired in love and friendship to celebrate the special people around us.
Unique and delicate bracelets designed to be shared with your loved ones and to be worn by you as a reminder to love yourself first. 
The colours have the power to evoke feelings,  to express emotions and to grab attention. 
Every colour symbolized something specific:
Red: courage, passion, love.
Blue: serenity, stability, wisdom.
Green: nature, tranquility, good luck.
Purple: luxury, power, wisdom.
Orange: joy, enjoyment, change. 
Black: mystery, power, elegance. 
Which of these colours do you identify yourself with? Are you able to describe your friends by colours? 
Handcrafted with fine 14 Kt gold filled and Japanese beads with a silk cord. 
Adjustable closure. 

Adjust from 5in to 8in.
Available in 7 different colours and combinations: 
Red
Orange

Purple 

Blue
Light blue
Green
Black 
Each of our products is made to order and our processing time is usually 1 - 5 business days.
Care Instructions:
Do not soak in water to avoid wear of the threads and gold plated materials. If for any reason the threads get wet, wait until they get totally dry to remove your jewelry. Avoid direct contact with body lotions and perfumes. Rough treatment can loosen the beads. Use mild soap and water to clean the cotton cords if needed, rinse and let it dry.