true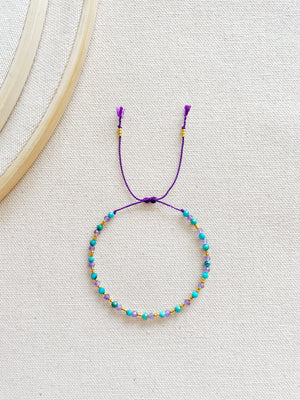 Happy moments lived in some of Carolina's favourite beaches of the Gulf of Mexico translated into jewelry for you to enjoy.
For our Golfo single bracelets we used amethyst, tanzanite, turquoise, malachite, peridot, aquamarine and fresh water pearls beads mixed with 24Kt gold plated and colourful Japanese beads.
There are 6 different designs available:
Turquoise and aquamarine.
Turquoise and amethyst.
Turquoise and Malachite.
Amethyst and Tanzanite.
Malachite and peridot with pearl.
Pearls with turquoise, amethyst, aquamarine, malachite and peridot.
🟡 Slight variations due to the natural and handmade beads that we use.
🟡 Care Instructions:
Your Alijuna jewelry is handmade thinking of you. We want you to feel happy and special.
Your pieces are made to last years if you give them some love and care.
Do not soak in water to avoid wear of the threads and gold plated materials. If for any reason the threads get wet, wait until they get totally dry to remove your jewelry. Avoid direct contact with body lotions and perfumes. Rough treatments can loosen the beads. Use mild soap and water to clean the cotton threads if needed, rinse and let it dry.