true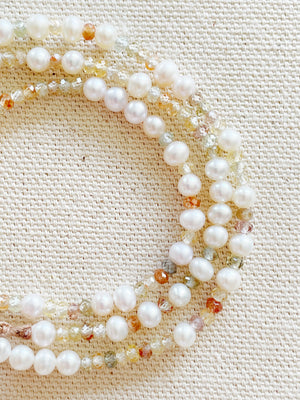 Anna Maria Triple Wrap Bracelet/Necklace
Salty hair, tan skin, happy heart and surrounded by an astonishing natural beauty that will make you want to stay for ever. Anna Maria Island is located in the Gulf of Mexico.
Our gorgeous Anna Maria wrap bracelet/ necklace is made with high quality fresh water pearls and zircons with the same beautiful colours of the beach sand and the reflection of the sunlight on the clear blue waters. The beads are strung in silk cord ending with a hand knotted 14Kt gold filled clasp.
This is an elevated and exquisite mix of pearls and natural zircons.
Wraps around your wrist 3 times.
It is 20in long including the clasp and fits wrist size from 6in to 6.5in. We have available for sale a 1.5in expander if you want to fit it to a bigger wrist. 
🟡 Slight variations due to the natural and handmade beads that we use.
🟡 Care Instructions:

Your Alijuna jewelry is handmade thinking of you. We want you to feel happy and special.
Your pieces are made to last years if you give them some love and care.
Do not soak in water to avoid wear of the threads and gold plated materials. If for any reason the threads get wet, wait until they get totally dry to remove your jewelry. Avoid direct contact with body lotions and perfumes. Rough treatments can loosen the beads. Use mild soap and water to clean the cotton threads if needed, rinse and let it dry.