true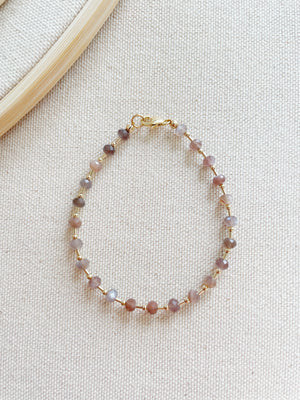 Luli Bracelet with Mauve Chocolate Moonstone
She always knows what she wants. It feels so powerful when you don't doubt your decisions. Just the way Luli is.
An elegant and exquisite mix of semiprecious gemstones rondelles and gold filled beads in different shapes and sizes.
They are strung in a flexible and coated stainless steel wire.
This option has mauve chocolate moonstone beads.
There are ten options available:
Tiger's eye
Pink tourmaline
Garnet
Purple ruby
Mauve Chocolate Moonstone
Citrine
Lazasine
Carnelian
Smoky quartz
Iolite
Take a closer look to the other options and create your great Alijuna mix.
Each of our products is made to order and our processing time is usually 1 - 5 business days.
🟡 Slight variations due to the natural and handmade beads that we use.
🟡 Care Instructions:
Your Alijuna jewelry is handmade thinking of you. We want you to feel happy and special.
Your pieces are made to last years if you give them some love and care.
Do not soak in water. Avoid direct contact with body lotions and perfumes. Rough treatments can loosen the beads.