true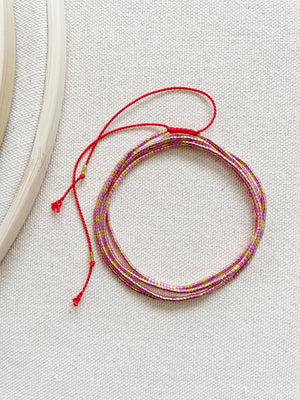 Love as rays of light that brighten up our soul and days! As a celebration of love in our lives we introduce these new colours to the Santa Ana Wrap Bracelets. 

The Santa Ana Collection is inspired in Carolina's happiest moments by the sea. She remembers those days at the Paraguana Peninsula surrounded by her family and enjoying the beach almost every weekend.
Handcrafted with the finest 24Kt gold plated, red, pink and purple Japanese beads strung in a red silk cord with four unique pattern designs. They can be worn like necklaces.
Ajustable closure.
Wrap around your wrist 5 times.
Its average length is 38cm to 46cm.
Mix and match them for a fantastic Alijuna look.
Available in 4 different patterns:
Red and gold beads.
Pink and gold beads.
Red, pink, purple and gold beads.
Gold, red, pink and purple beads. 
Care Instructions:
Do not soak in water to avoid wear of the threads and gold plated materials. If for any reason the threads get wet, wait until they get totally dry to remove your jewelry. Avoid direct contact with body lotions and perfumes. Rough treatments can loosen the beads. Use mild soap and water to clean the cotton threads if needed, rinse and let it dry.