true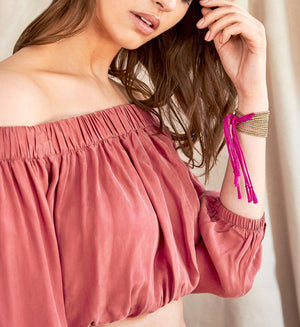 Cordillera Wrap Bracelets With Fuchsia Cord
The Cordillera Collection is elegant with an artisanal and bohemian look. Inspired in the Venezuelan Andes and its endless mountains, high farmlands and villages with cobble streets, houses with terracotta tiled roofs, colourful windows and doors.
Handcrafted with 24K gold plated and multi-coloured Japanese beads arranged in a specific pattern design ending with a fuchsia cotton braided cord.
Tie fastening.
Its average length is 73 cm.
Wrap around your wrist three times.
Mix and match them for a truly Alijuna look.
Available in 5 different combinations:
Zest and gold

Pink and gold

Orange and gold

Green and gold

Zest, pink, orange, green and gold.
Each of our products is made to order and our processing time is usually 1 - 5 business days. 
Care Instructions:
Do not soak in water to avoid wear of the threads and gold plated materials. If for any reason the threads get wet, wait until they get totally dry to remove your jewelry. Avoid direct contact with body lotions and perfumes. Rough treatment can loosen the beads. Use mild soap and water to clean the cotton cords if needed, rinse and let it dry.