true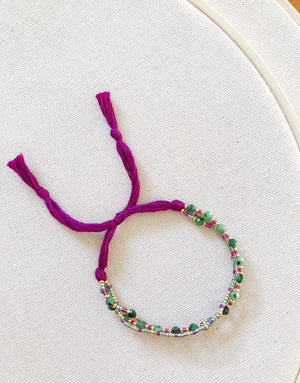 Anhelo multi strand bracelets
Our new Anhelo multi strand bracelets feature ruby zoisite, yellow green turquoise and Japanese beads strung on cotton threads.
Anhelo is a collection that invites you to live your life to the fullest. The brightest and happiest of you!
Adjustable closure.
Available in two different options
Ruby zoisite with colourful and 24Kt gold plated beads on a fucsia cotton cord. 
Yellow green turquoise with colourful and 24Kt gold plated beads on a green cotton cord. 
Handcrafted in Calgary.
Each of our products is made to order and our processing time is usually 1 - 5 business days.
Care Instructions:
Do not soak in water to avoid wear of the threads and gold plated materials. If for any reason the threads get wet, wait until they get totally dry to remove your jewelry. Avoid direct contact with body lotions and perfumes. Rough treatments can loosen the beads. Use mild soap and water to clean the cotton cords if needed, rinse and let it dry.