true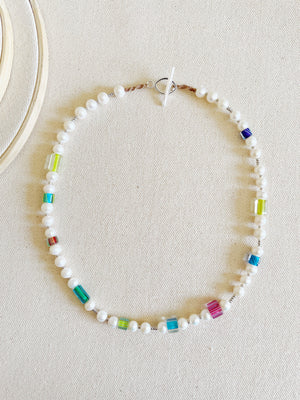 Puerto Cruz Pearls Necklaces
Margarita Island is famous for its pearls and its beaches. Puerto Cruz is one of those beaches.
With the Puerto Cruz necklaces we want to recreate the unique beauty of the place. For this, we used high quality pearls and hand blown furnace glass beads. These glass beads are made in Canada using ancient Italian glass working techniques. We also added tiny palladium plated Japanese beads, silk cord and sterling silver clasp.
There are only 4 options available and each one is unique.
They are  approximately 18.7in (47.5cm) long including the clasp.
You can tie the ends of the two options together using the clasps and wear it like a double wrap necklace. 
Handcrafted in Calgary.
Care Instructions:
Do not soak in water to avoid wear of the threads and palladium plated beads. If for any reason the threads get wet, wait until they get totally dry to storage your jewelry. Avoid direct contact with body lotions and perfumes. Rough treatments can loosen the beads.