true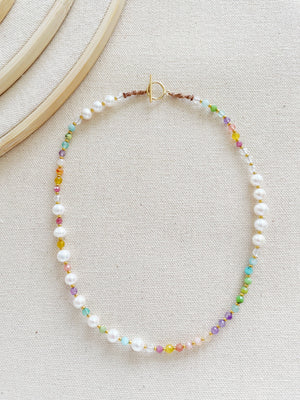 Manzanillo is a beach in Margarita Island. It is not one of the famous ones but it is such a beautiful and quiet spot to enjoy the sunset and delicious local food. The water is nice and calm, many say that it is like a pool. You can also enjoy watching the work of the fishermen after they arrive.
Our Manzanillo necklaces are made with high quality fresh water pearls, 24Kt gold plated Japanese beads and a mix of semi precious gemstones like amazonite,  pink tourmaline, agate, amethyst and clear topaz; strung in a silk cord ending with a gold filled clasp. 
They are approximately 16.5in (42cm) long including the clasp. 
You can tie the ends of the two options together using the clasps and wear it like a double wrap necklace. 
Handcrafted in Calgary.
Care Instructions:
Do not soak in water to avoid wear of the threads and palladium plated beads. If for any reason the threads get wet, wait until they get totally dry to storage your jewelry. Avoid direct contact with body lotions and perfumes. Rough treatments can loosen the beads.