true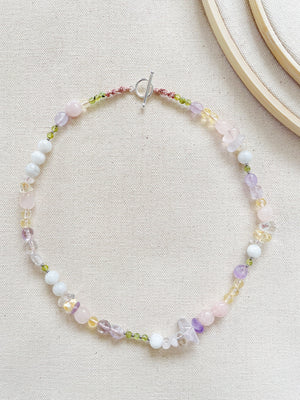 Our new Luli necklaces belong to the Fiesta Collection. 
Featuring rainbow moonstone, amethyst, rose quartz, peridot, citrine and palladium plated Japanese beads strung on a silk cord and ending with delicate knots and sterling silver clasp. 
There are two options available.
Due to the shapes of the gemstones each piece is unique and will present slight variations from the one in the picture. 
Length approximately 47.5cm (18.7in)
You can tie the ends of the two options together using the clasps and wear it like a double wrap necklace. 
Handcrafted in Calgary.
Each of our products is made to order and our processing time is usually 1 - 5 business days.
Care Instructions:
Do not soak in water to avoid wear of the threads and palladium plated beads. If for any reason the threads get wet, wait until they get totally dry to storage your jewelry. Avoid direct contact with body lotions and perfumes. Rough treatments can loosen the beads.