true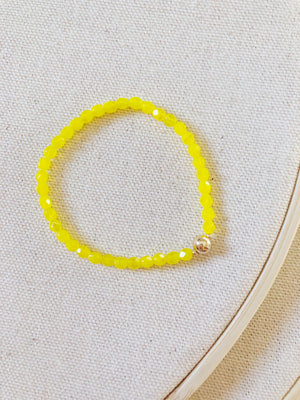 Introducing our Anhelo stretch bracelets.
They are simple, fun and colourful, featuring firepolish glass and gold filled beads.
Let's find joy in the simplest things in our life and fulfill our soul with love, music, family and positive thoughts.

Available in 3 different colours: yellow, pink and beige 
Sizing:
Availabke in sizes:
Small (6in / 15.25cm)
Medium (6.5in / 16.5cm)
Large (7in / 17.75cm)
Extra Large (8in / 20.32cm)
At the time of purchase, let me know in the comments your size.
Handcrafted in Calgary.
Each of our products is made to order and our processing time is usually 1 - 5 business days.